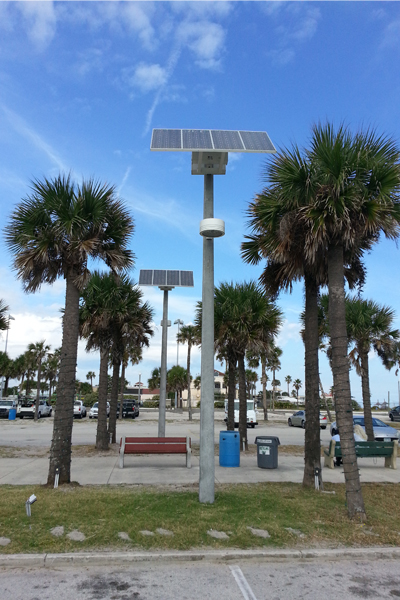 St. Johns County was looking to complete improvements into the parking areas at the beach parking and wanted to integrate a renewable aspect. The project was designed to integrate standard AC utility electrial lights while also integrating stand-alone solar lighting systems.
The lighting design and engineering firm working on this project needed to be able to have the entire light poles and fixtures match and be both aesthetically pleasing and high performing. We were able to assist with this request by using our partnership with Kim Lighting which allowed us to work together in order to offer our solar power systems to integrate the decorative Curvilinear high Performance LED light fixture into both the solar lighting and utility power design.
The production of the fixture in both AC input and DC input take a lot of background engineering. What is different about AC utility power lights and DC solar stand-alone lights is that the solar system is only as reliable as its design. If the fixture draws 1 watt more it could drain the battery and make the system unreliable and require early battery replacement. This 1 watt will operate for about 14 hours in the winter drawing 14 more watts out of the battery and draining the battery closer to the total depth of discharge.
The solar battery has a life expectancy which is based on the cycling capacity. The more the battery cycles through to its DOD - depth of discharge, the sooner the battery will need to be replaced. With LED lights and electronics lasting much longer, the batteries are the weakest components in the system and need to be properly designed in order to have them have long life cycle.
The project was a success and looks beautifully designed. Direct burial round concrete white poles with solar on the top and the curvilinear fixtures below match in with the pier and parking areas and met the needs that St. Johns County was hoping for.