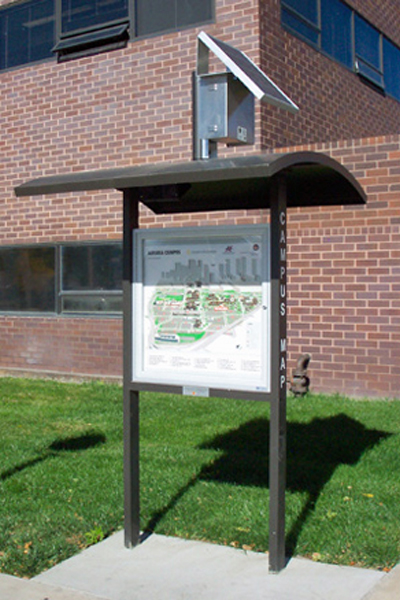 Kiosk shelters are a great way to relay information to people visiting a campus or a park. Kiosks can show them useful information such as location maps, events, specials and advertisements. Traditional kiosks are installed all over areas typically not having access to a traditional power source. A great way to light these so the information is available after dark is by utilizing solar kiosk lighting.
With a solar kiosk light system you are able to provide lighting to the information when it is still needed after dark. This allows visitors to easily see where they are, where they may need to go, and some other useful information you may provide. And the systems are typically quite small as they would only need to run until the visitors would no longer be in the area, such as a park closing or classes are over.
Aurora Higher Education Center uses our solar lighting systems for kiosks around the campus to provide information to visitors and students, especially for night class attendants. The systems run for 6 hours after dusk to maximize efficiency and lower the overall size requirements of the system. The costs of trenching in the power to kiosk locations can be costly and AHEC was looking for a renewable aspect while also providing power to kiosk areas that had no electric nearby.
Solar powered kiosk shelters also can be placed around transit areas to help visitors to a city find their next destination and view transit routes easily. This works great for local businesses that would like to attract visitors to their establishment. The kiosk can also serve as a shelter when the weather isn't favorable. Larger solar powered systems can even provide mobile device charging stations.
Have a kiosk that requires lighting and no power available? Contact us for a free project analysis and see what SEPCO's solar lighting systems can do for you.